Simply The Best
Nashville Image is known worldwide for magical, fun, and flattering old time professional portraits of people in time periods 1840 to 1940. Hundreds of authentic costumes, props, and accessories combined with creative poses and archival prints have made Nashville Image a destination adventure for those traveling to and/or living in the Midwest.
All portraits are printed on Kodak's best archival products currently available (not inkjet) and ready for display and sharing with deluxe mats and top quality frames with museum glass.
The Historic Origin of Nashville Image
Nashville Image began as The Imagery in the Historic New Orleans Hotel in Eureka Springs, Arkansas. Created by Susan Storch in a time when there were only were only a handful of old time photographers at carnivals and fairs. It was the first old time photographic studio in the world. The Imagery name is now used by Susan Storch for her fantastic and very exclusive wedding photography in Eureka Springs.
The old time photo studio was renamed Eureka Image and upon moving to Nashville, Brown County, Indiana, Nashville Image opened in Antique Alley.
A Unique Wedding Destination
Suzanne Kammerer, a professional photographer for 40+ years and a licensed minister, officiates the wedding ceremonies at Nashville Image. It is a unique, fun, and inexpensive way for couples to celebrate their commitment to creating a loving partnership for life.
Dr. Kammerer also performs weddings at other locations.
"The portraits are so authentic that we wanted to be as authentic ourselves. We went right over to the Nashville CVS store and Joe bought a razor and shaved off his mustache for the portrait."
-After they viewed their portraits -
Joe - "I felt like I was really there. "
Bonnie - "It was powerful to me and brought my Native American ancestry to the surface."
Joe and Bonnie Novotney Cherokee Terre Haute, Indiana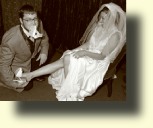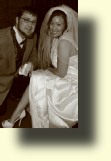 A Few Facts About Our Portraits, History, and Unique Weddings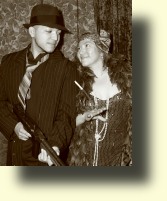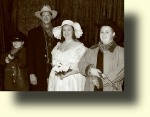 "It's not just how many
come in,
it's how many come back!"
Old Time Photos and Brown County Weddings from 1840 to 1940




(812) 988-8292
Suzanne,

I'm old and I don't like very many things but I liked having my portrait taken by you at Nashville Image. Here's why:

1. Professionalism. I expected a schlock, "bang bang", "in and out" job. I did not expect a true professional using the camera. Every idiot with a cell phone thinks that they can take a good picture. They do not appreciate the talent involved in taking a "good" picture but I deeply do. This was a pleasure. I've worked with a lot of talent over the past 40 years and Suzanne is a talent with whom that I enjoyed working.

2. Business. The business was first class in providing props, extremely fast and efficient service and the nuances of quality (business card, supplied hanging material, attitude).

3. Value. I got what I paid for. The picture frame was of excellent quality and price. I did not blink nor regret the price.

4. Quality. I did not have a desire to purchase a picture to put on my wall. I will put this picture on the wall. By the quality barometer, I would like this portrait to be displayed at my funeral.

Thank you for a wonderful experience. I plan on coming back with my son, his fiance and grand dog for a family portrait. The dog will not be a problem but I would not be adverse to hazard expenses for bringing in two comedians.

Sincerely,
Bob Walkowski
AKA: Detroit Bob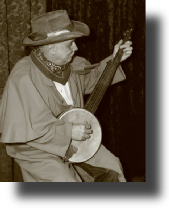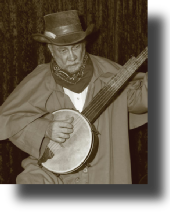 Detroit Bob with his Joel Walker Sweeney Banjo c.1845