We Dress You Up! We Marry You! We Shoot You!
Brown County Weddings by Suzanne Kammerer, a licensed minister, are legal, quick, non-denominational, inclusive, and very personalized ceremonies. She also performs vow renewal ceremonies and hand-fasting rituals.
You can wear our wedding attire for your wedding ceremony and portraits or wear your own. You can invite up to 12 guests and add some of your own words or specific rituals to the ceremony.
When Suzanne, one of the top wedding photographers in Indiana, creates your old time wedding portraits after the ceremony, you will take home unique images that will capture the joy of your wedding in Indiana.
We prefer you have a reservation for your Nashville Indiana weddings and walk-ins are welcome. Some days are very busy with old time portraits and we would love to set aside a specific time for YOUR wedding in Brown County.
The Reservation Fee of $50. confirms your wedding date and time. This fee will then become a credit towards your total on your wedding day. Refunds are given (minus processing fees) with 2 weeks advance notice.
If you have questions and/or are ready to reserve your chosen time and date, please e-mail Suzanne (CLICK HERE) to check her availability. You may also choose to call the studio at (812) 988-8292 or visit her in person at Nashville Image.
Several deluxe portrait collections are available. Some include custom frames including museum glass, a CD with your favorite originals, archival mats, and even additional images to share with family and/or friends.
We accept Visa, Mastercard, and Discover.
We no longer accept checks for any wedding ceremonies or portraits.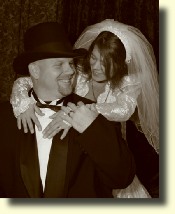 "Dawn and I wanted to thank you both so much for our very special day.
The photos turned out perfect! We couldn't have asked for a better time getting married and having the photos taken for our memories. We both commented on how fun and enjoyable you made the whole ceremony!
I think everyone should know that you can be on a budget, have a blast, and yet have a serious and emotionally tying service that we will remember for the rest of our lives!
Thanks again. We look forward to doing more memories in the future."
Christopher & Dawn Jewell
Brown County Weddings
Nashville Image
Old Time Photographic Studio
And Very Small Wedding Chapel
Suzanne Kammerer
Minister & Photographer
Nashville, Brown County, Indiana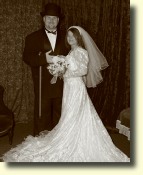 Anniversary Time-Travel Portraits