Each Brown County Weddings couple have their unique, wonderful, beautiful, and heart-felt stories of how they met, fell in love, decided to marry, and then found their way to Nashville Image. Our Vow Renewal couples have been married from 1 to 69 years.
"Thank you from the bottom of our hearts! We had an awesome time and a wonderful wedding ceremony! We appreciate your time and patience. The photographs are so beautiful and what we wanted. We will definitely recommend you to our friends and families."
Pam and Gale Harkness, Indiana
Below are the latest of our Nashville Image old time wedding portraits. These moments were captured following their wedding ceremony or vow renewal at Nashville Image by Suzanne Kammerer, one of the top portrait photographers in Indiana.
Wear our wedding attire or your own.

Surprise Marriage Proposals
Wedding Reservations
(Visit the Reservations Page for details)
Rev. Suzanne is also available for officiating Weddings at YOUR location!
Ceremony Fee at Cabin or Park in Brown County $150. Other Counties $225 & up
Our Wedding Attire available only with Wedding Portraits Packages
Maximum number of guests we can accommodate is 12
Guest photos/video during Wedding Ceremony only!
We accept Visa, Mastercard, and Discover. No checks.
Nashville Image
Old Time Photographic Studio and
Very Small Wedding Chapel
Suzanne Kammerer
Minister & Photographer
Nashville, Brown County, Indiana
Time Periods From 1840 to 1940
Wild West, The 20's, Victorian, Civil War, Titanic
Ceremony Fee at Nashville Image $100
E-mail for more information and current availability.

"Just wanted to say thank you again for everything you did. We had a beautiful wedding and you did great with all you did for us.
We couldn't have asked for anything more. Thank you so much. Feeling so thankful to God for the life he has given us."
Greg and Mariah Mitchey, Indiana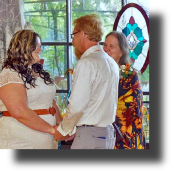 Available as wedding officiate at locations other than Nashville Image
Location: Iris Gardens "The Nest"